My weekend was pretty lame but I wanted to participate in Sami's last Weekend Shenanigans!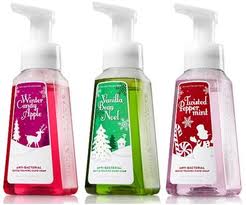 I also got suckered into Bath & Body Works- Buy 3, Get 3 Free sale. I love the holiday soaps!!
KLR packages make everything better! :) I am officially addicted....My heart and wardrobe love it, my checking account cries every time I buy something.
I talked to my mom, we have always fought because we are so similar and we just clash all the time. The water works just came after I got done talking to her. I guess maybe I miss her a little :)
I plan on FINALLY going to the Street Fair that goes on every Tuesday. I forget every Tuesday but I am determined to go. I am excited to see all the lights and Christmas stuff :)