Another Sunday is here and almost gone. Time is flying by!!!!!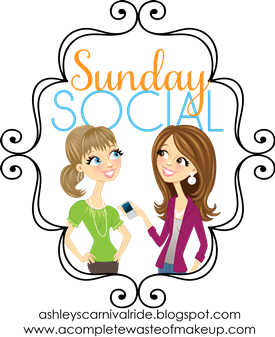 This Weeks Questions:
1. What is the first blog you ever followed?
Mama Laughlin
. My friend Brooke, introduced me to her blog. Even though I was not looking for weight-loss advice, I still enjoyed reading her blog. I then found a few other blogs and decided to start my own blog.
2. What was your first blog post about?
It was a few random facts about me!
http://www.littleladyh.blogspot.com/2013/01/blogger-newbie.html
3. Who left you your first blog comment?
I'm sure it was my IRL friend,
Brooke
. She was my first follower and one of two people, I actually know who read this blog.
.
4. Who was the first blogger you ever met in person?
I have only met Brooke, even though I already knew her haha I have quite the list of who I would like to meet though!!
5. What was your first "blogging milestone?"
Probably when I got 10 followers...yes 10!! haha I also recently bought a blog design and a couple of sponsor spots.
I was looking forward to starting eating gluten free this week but I am going to start next week. I am going to visit my sister and my nephew this week!! EEEEK :) So I am going to wait, but I am eager to try it.
Thanks to people like
Hubby Jack
and
Sarah
, my blog is getting new additions little by little. They have awesome tutorials so you should check them out if you need a little extra somethin' somethin' ;) Yayyyy :)
Have a great week, everyone!