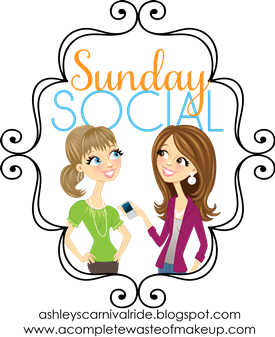 1. What is the name of your blog?
Little Lady
2. What do you love most about blogging?
Meeting new people! I love the "environment" of blogland and being able to express myself by blogging.
3. Why did you start blogging?
I had been following a lot of blogs for about 4 months and then I decided to start blogging myself!
4. What is something you'd want to tell someone just starting out in the blog world?
Comment, comment, comment!!!!
Great way to get noticed and make new friends! I also think doing link-ups are a great way to meet people with similar interests.
5. Biggest blogging learning experience you've had?
Just be yourself. Don't try to do what everyone else is doing. I had a hard time at first with this. I was always nervous to post things if I was uncertain or felt silly about them. I am getting better at not worrying about what others will think.
6. What are three blogs you love?
1.
Mal Smiles
. I just started following her and she is great!
2.
Dog Hair is An Accessory
. She is my "big" from Littles and Bigs and she is hilarious!!
3.
XO Christine Marie.
She just moved to California, near the area I will be moving so I love seeing her posts at the beach!!
I also love reading everyone else on my list!! I am loving finding new blogs to read every week. I can barely keep up but they are all great ladies!!
Happy Sunday!!